About us
About Unity Cosmetics
Unity Cosmetics a small brand in hypoallergenic products from Amsterdam. Since its foundation in 2010, we have been developing high-quality hypoallergenic make-up, without perfume and without irritating preservatives such as parabens. The products contain many minerals and natural ingredients.
Two young entrepreneurs, one with entrepreneurial experience and the other with years of experience as a make-up artist. Friendship and the shared interest in producing cosmetics that are suitable for everyone, but especially for people with sensitive skin or allergies, is the basis of Unity Cosmetics.
Why is it difficult to find make-up with a skin allergy? We try to make it as easy as possible for you to choose products that your skin tolerates, with an extensive filter on ingredients and a detailed product description.
Making a beautiful product, enjoying what you do, being yourself and presenting yourself to the world as the most beautiful person is what we want, our philosophy "Be you, be beautiful".
We regularly receive questions about a certain allergy or for a colour advice. We find it important that all your questions are answered before you order, so we are happy to help you find the right product or colour! Please send us an e-mail or give us a call!
We are constantly expanding and adapting our product range, what is more fun than having involved customers who share their feedback with us and make their wishes known! We love to hear from you, together we are Unity!
Our products
We have a very wide range of paraben-free products: eyeshadows (refills), palettes, eyebrow pencils, mascaras, primers for eyes and face, lipsticks, lip glosses, lip pencils, concealers, face powders, foundations, rouges (refills) and makeup brushes. We also have various accessories that are useful when using makeup, such as spatulas and applicators.
Our personal favourites, the mascaras and eye pencils!
Corporate Social Responsibility
Within the bounds of possibility, we as a small webshop try to minimise our impact on the environment. We pack our products as efficiently as possible and we do not send a printed invoice or packing slip with the delivery (you can find these digitally under 'My Account').
Welcome to our shop!
Ismail & Jos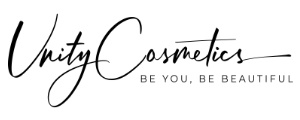 9,2

Wij scoren een 9,2 op Webwinkelkeur | ValuedShops
Unity Cosmetics Europe B.V.
Van Hallstraat 705
1051 JE Amsterdam
The Netherlands
VAT NL862543265B01
CoC 82623651